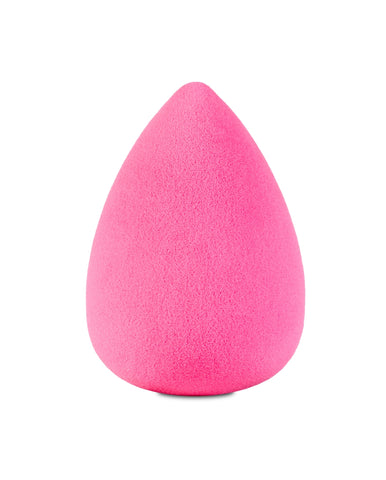 Ahh, the adored Beauty Sponge: Once you try one, you'll wonder how you ever lived without them. They are versatile in that they can be used wet or dry, and with creams, liquids, powders, and minerals.
How to use it:
For powder products such as powder foundation, blush, bronzer or eyeshadow, use the dry sponge. Dab your sponge into the product, and then pat evenly onto your skin.
For non-powder products such as liquid foundation or concealer, 

wet 

your sponge. Soak it underwater, and watch it double in size! Then, 

wring

 it out. 

Once it is damp, you can either place a bit of product on your hand or a clean surface and dip the sponge into it, or apply the product directly onto the sponge. Dab

 the product onto your skin. It is not recommended to drag or wipe the product across your face, creating a streaking effect. A gentle patting motion creates a seamless, airbrushed finish.
Use the rounded part of the sponge for the larger surface areas of your face, such as your cheeks and forehead. Use the pointed part of the sponge for greater precision in those harder-to-reach areas such as around your eyes or around the nose.
Clean your sponge by applying a dab of baby shampoo or gentle soap and running it under warm water. It is recommended to do this after each use to avoid the buildup of dirt and bacteria, keeping your skin clean. Wring it out and rest it on the drying stand provided in our

Beauty Sponge Collection

so that it can air dry.
What's inside our Beauty Sponge Collection:
Two Flawless Sponges:

 Created for the smooth and flawless application of liquid makeup. This sponge has a versatile shape that enables a streak-free application for every area of your face. Use the rounded end of the sponge to cover large areas and the pointed end to reach trickier spots on your face.

One Precision Blender

: This expertly shaped, dual-ended precision makeup sponge is ideal for applying and blending concealer, foundation, and skincare products in hard-to-reach areas. Use its dual, precise tips for precision blending and to aid in removing makeup errors, especially around the eyes.

Drying Stand:

 Our exclusive sponge drying stand was created specifically for our sponges. After cleaning, allow them to air-dry on the stand.
*All of our sponges are made in Korea, and are odor-free and hypo-allergenic!